Stretch Glass Dates: 1917 into mid-1930s
Stretch Glass Line Name: Florentine Line
Colors:
Amber - a light to medium amber glass

Aquamarine - a light blue-green glass

Celeste Blue - blue glass

Florentine Green - light green glass

Grecian Gold - crystal glass with orange-gold iridescence

Persian Pearl - crystal glass with white iridescence

Royal Blue - dark cobalt blue glass

Ruby - red and amberina glass

Tangerine - a yellow which appears orange with its iridescence

Topaz - yellow-green glass, commonly called vaseline

Velva Rose - pink glass, though some have a brownish cast

Wistaria (sic) - a light purple glass
Fenton produced a large amount of stretch glass in an incredible array of shapes and forms. Unfortunately, the company used their mold numbers with descriptive terms ("flared," "rolled rim," "cupped," etc.) to identify their pieces rather than individual numbers for each mold AND shape like Northwood did. Because of this, it has been very difficult to determine the exact number of pieces that Fenton produced, but the following forms should be fairly common for each bowl: flared, rolled rim, cupped, flared-cupped, shallow (wide flared and cupped or ice cream shape), and hat shaped.
Fenton is the only company that made a dolphin pattern line - pieces with two or three fish-like animals used as handles or feet. They also made a popular "diamond optic" line (#1502) and pieces with dolphins and diamond optic patterns are known. Fenton iridized and stretched a fair amount of traditional carnival glass pieces as well as other lines - "openwork bowls," "dancing ladies vases," "Plymouth," and "Lincoln Inn."
Celeste Blue, Topaz, Persian Pearl, Florentine Green, Grecian Gold and Velva Rose are the most common Fenton colors. Wistaria (sic), Tangerine, Ruby, and Aquamarine are probably the next most common colors and all are highly desired by collectors. Royal Blue is very difficult to find (and expensive!) and amber is very rare (but not very well liked by collectors). Note that in the Fenton advertising pieces, they spelled wisteria, Wistaria. Other very desirable pieces are the "curtain optic" and "rib optic" pieces which were made using topaz opalescent glass.
bowl and base, low in Amber.

bowl, footed #231, cupped in Celeste Blue.
bowl and underplate, #1562 "banana boat" in Aquamarine.
compote, flared cupped, #736 (rib optic) in Persian Pearl.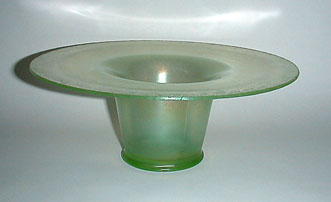 vase, hat-shaped, #621 hat-shaped in Florentine Green.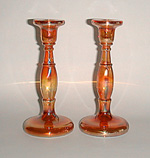 candleholders, #549 in Grecian Gold.
compote, #1533A "twin dolphin" in square shape, in Tangerine.
bowl, #604 "punch bowl" with crimped rim in ruby. Most of Fenton's ruby bowls are not iridized on the outside.
References:
Fenton Glass, The First Twenty-five Years (W. Heacock, 1978, O-Val Advertising Corp., Marietta, OH)
Fenton Art Glass 1907-1939 (M. & K. Whitmyer, Collector Books, Paducah, KY)